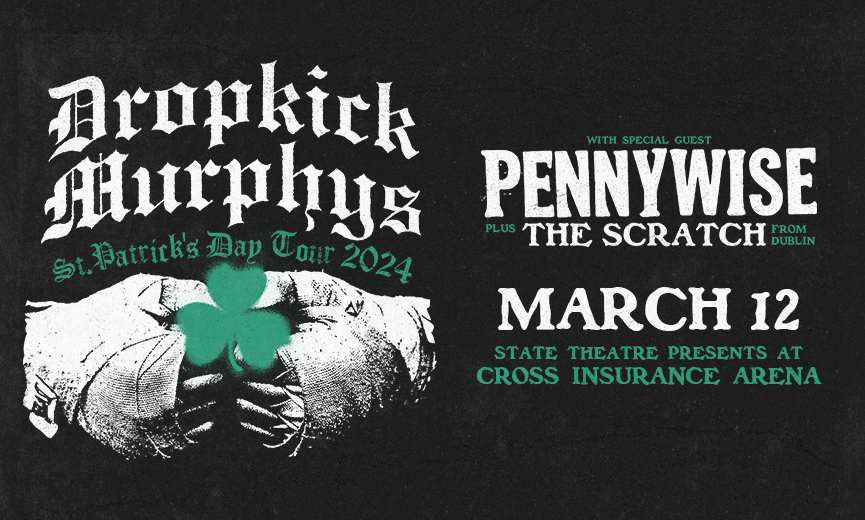 Dropkick Murphys
with special guests Pennywise and The Scratch
Event Details
State Theatre Portland Presents Dropkick Murphys on March 12! The band announced their 2024 U.S. St. Patrick's Day Tour featuring punk legends Pennywise as special guests, and hotly-tipped Dublin rock band The Scratch.
About Dropkick Murphys: Dropkick Murphys proudly remain Boston's rock 'n' roll underdogs turned champions. Since 1996, the boys have created the kind of music that's meant to be chanted at last call, in packed arenas, and during the fourth quarter, third period, or ninth inning of a comeback rally. Their celebrated discography includes four consecutive Billboard top 10 album debuts (Turn Up That Dial, 11 Short Stories Of Pain & Glory, Signed and Sealed in Blood, Going Out In Style), along with 2005's gold-selling The Warrior's Code featuring the near double platinum classic "I'm Shipping Up To Boston." Whether you caught a legendary gig at The Rathskeller (The Rat) under Kenmore Square, found the band by taking the T to Newbury Comics to cop Do Or Die in '98, discovered them in Martin Scorsese's Academy Award winning The Departed, or saw 'em throw down at Coachella (or one of hundreds of other festivals), you've become a part of their extended family. Dropkick Murphys' music has generated half-a-billion streams, they've quietly moved 8 million-plus units worldwide and the band has sold out gigs on multiple continents. In 2020, the band was one of the first to embrace streaming performances, starting with their Streaming Up From Boston St. Patrick's Day virtual performance. It was followed by their landmark Streaming Outta Fenway livestream, which drew more than 5.9 million viewers and held the #3 spot on Pollstar's "Top 2020 Live Streams" chart. Dropkick Murphys St. Patrick's Day Stream 2021...Still Locked Down, was #1 on Pollstar's Livestream chart for the week ending March 22, 2021, logging over 1 million views. Dropkick Murphys returned in 2022 with their first-ever all-acoustic album, This Machine Still Kills Fascists (Dummy Luck Music / [PIAS]), and seated theater tour. This Machine Still Kills Fascists--and their follow-up album Okemah Rising--breathe musical life into mostly unpublished lyrics by the legendary Woody Guthrie, curated for the band by Woody's daughter Nora Guthrie.
Formed in the South Bay of Los Angeles—a neighborhood with a rich punk-rock history—in 1988, Pennywise went on to amass an international following with their relentless touring and a melodic, high- energy sound fusing classic punk, surf punk, and blistering hardcore. Through the years, Pennywise have solidified their place in punk history with iconic songs like "F*ck Authority," "Alien," and "Bro Hymn" (their timeless ode to brotherhood and departed friends). Pennywise have released 11 albums over the last three decades, including: Pennywise (1991), Unknown Road (1993), About Time (1995), Full Circle (1997), Straight Ahead (1999), Land of the Free? (2001), From The Ashes (2003), The Fuse (2005), Reason To Believe (2008), Yesterdays (2014), and Never Gonna Die (2018). Resolutely working outside the margins of the mainstream, the band has emerged as an enduringly vibrant staple on SoCal radio airwaves and the worldwide festival circuit.