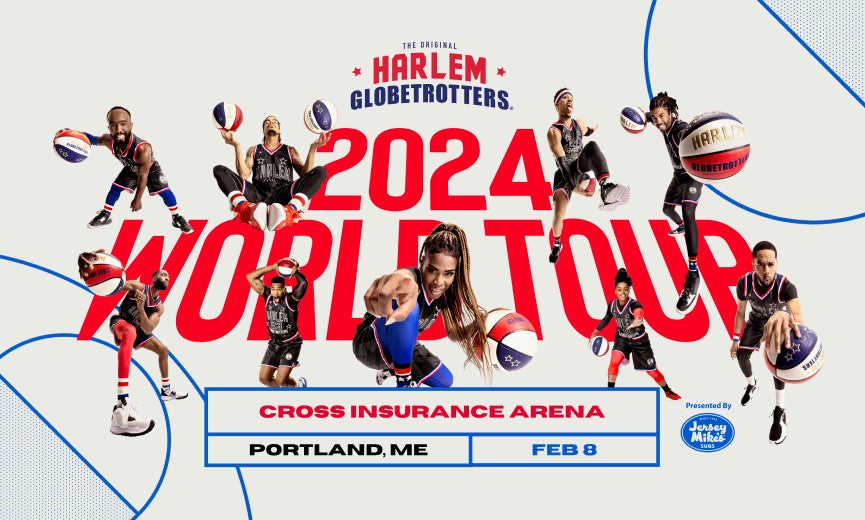 Harlem Globetrotters
2024 World Tour Presented by Jersey Mike's Subs
Event Details
Where, WHAT JUST HAPPENED?!? happens all the time! Don't miss your chance to be a part of the world-famous Harlem Globetrotters global tour as they take the court with moments of extreme basketball innovation and unparalleled fan FUN on February 8, 2024!
See the Globetrotter stars LIVE as they DRIBBLE, SPIN, SLAM, and DUNK their way past their relentless rivals, the Washington Generals! You'll be amazed by new levels of mind-blowing trick shots, expert ball-handling skills, and BIG LAUGHS with unrivaled opportunities for pre-game, post-game and in-game fan engagement!
Calling all hoop lovers! The $25 Magic Pass is your chance to show that you've got GAME. Bring the fam and join the Harlem Globetrotters and Washington Generals on the court before the game to show your skills, shoot some hoops, and get player autographs and photos! The one-of-a-kind 30-minute pre-game, MAGIC PASS begins 90 minutes before tip-off and will create memories you'll never forget. Because this event takes place prior to doors opening, EVERYONE entering the venue early must have a game ticket AND Magic Pass for entry. This includes all children as well as the parent(s)/guardian(s) wishing to accompany them into the building. If you plan on attending Magic Pass, please make sure you have BOTH tickets. NO EXCEPTIONS. Soft/rubber soled shoes must be worn on court. Late arrivals will not be refunded.