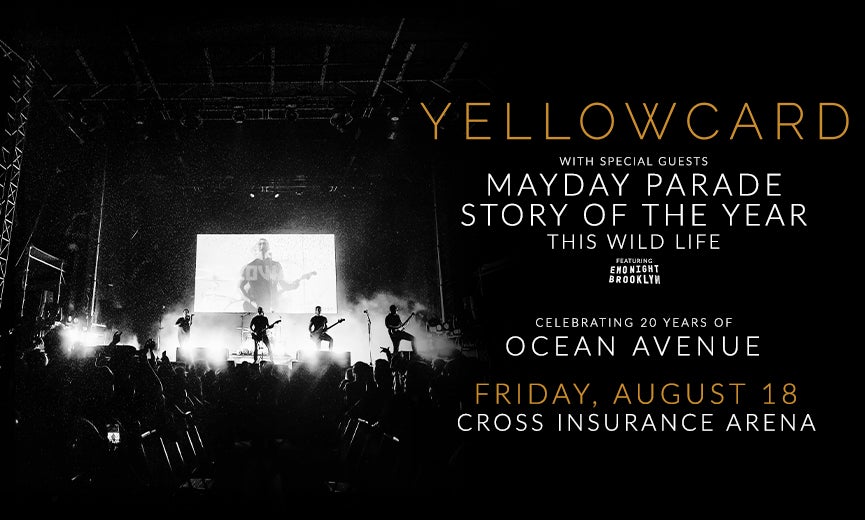 Yellowcard
Celebrating 20 years of Ocean Avenue
Event Details
Just announced, Yellowcard will play Cross Insurance Arena on Friday, August 18 with special guests Mayday Parade, Story Of The Year, This Wild Life, and Emo Night Brooklyn!
Yellowcard is an American rock band that formed in Jacksonville, Florida, in 1997 and was based in Los Angeles beginning in 2000. The band is recognized for having a distinct sound in their genre, primarily due to the prominent use of a violin in their songs, and are best known for their singles "Ocean Avenue", "Only One", and "Lights and Sounds". The band released ten studio albums, with its most recent and final one, Yellowcard, released on September 30, 2016. Following this release and supporting tour, the band broke up. The band reunited in September 2022 for a performance at Riot Fest.
Mayday Parade is an American rock band from Tallahassee, Florida. Their debut EP Tales Told by Dead Friends was released in 2006, and sold over 50,000 copies without any label support. In July 2007, Mayday Parade released their debut album A Lesson in Romantics. After signing to Fearless in 2006, the band also signed onto a major label with Atlantic in 2009. Their second studio album, Anywhere but Here was released in October 2009 and their third album, entitled Mayday Parade, was released in October 2011. Mayday Parade's fourth album, titled Monsters in the Closet, was released in October 2013. Their fifth album, titled Black Lines, was released October 2015. In April 2018, the band signed to Rise Records and released their sixth studio album Sunnyland on June 15, 2018. Their seventh studio album What It Means To Fall Apart, was released in 2021.
Story of the Year is an American rock band formed in St. Louis, Missouri, in 1995 under the name 67 North. The band eventually changed their name to Big Blue Monkey in 1998, and then subsequently changed it again to Story of the Year in 2002, after the release of their EP titled Story of the Year on the indie label Criterion Records. It would not be until three years after forming that Story of the Year saw its first piece of commercial success in its major label debut, Page Avenue, containing the popular singles "Until the Day I Die" and "Anthem of Our Dying Day". On August 11, 2017, Story of the Year teased a 90-second clip of a new song off their crowd-funded fifth studio album. The pledge campaign began in November 2016 and was completely funded in less than 3 days. The band used high-profile producer Aaron Sprinkle and mixers Tom Lord Alge & J Hall to complete their fifth studio album. They confirmed via the pledge site that the new album will be titled Wolves, which was released on PledgeMusic on December 1, 2017. The album's wide release was on December 8, 2017.
This Wild Life is an acoustic rock duo from Long Beach, California consisting of Kevin Jordan on vocals and guitar and Anthony Del Grosso on guitar. Jordan and Del Grosso were originally pianist and drummer's respectively. California-based indie duo This Wild Life shed their initial full-band ambitions, successfully retooling their emo/pop-punk style into an acoustic format in 2014 with their Epitaph debut, Clouded. From their beginning as D.I.Y. up-and-comers to label-supported hard-touring festival attraction, co-singer/songwriters Kevin Jordan and Anthony Del Grosso have consistently shown an interest in creative expansion and evolution, moving from an electric phase to a stripped-down acoustic period, and later to a mix that included orchestral ambitions.
Welcome to Emo Night Brooklyn, a late-night DJ-based dance party blasting all your favorite emo and pop-punk jams. We may even invite some of your favorite artists and bands to surprise you and join the party. Get ready to scream your lungs out, mosh, and dance to all your favorite songs with all of your favorite people and experience the awesomeness that is Emo Night Brooklyn.